York School of Jewellery
York School of Jewellery is an independant school of jewellery and we are delighted to be one of their chosen charities. The school runs regular experience days where prospective students can experience a jewellery/silversmith class.
The sessions offer a glimpse into the wide range of classes and courses available at York School of Jewellery Jewellery experience days are just £65 per student and silversmithing days (making a hand hammered vessel) are only £85. £10 from each student will be donated to the charity of your choice out of
St Leonards Hospice
Yorkshire Coast Dog Rescue
For further details please ring 01904 674767 We are fortunate to be a chosen charity and benefit from the proceeds of these sessions.
York School of Jewellery, 35 Hospital Fields Road, York website Tel:01904 674767
March 2015 - Many thanks to the staff and students for raising the sum of £40 making a grand total to date of £1,120.80. We really appreciate your continued support
June 2014 - Many thanks to the staff and students for raising the sum of £140 making a grand total to date of £1,080.80/ This is a fantastic achievement and has made a huge difference to the charity.
Dec 2013 : Many thanks to York School of Jewellery for your continued support! A total of £117.30 was raised through donations at your Jewellery & Silversmith Experience Days. Details of courses can be found on their website.
June 2013 - Many thanks to the staff and students of York School of Jewellery for raising a total of £80.00 from their tester session on 2nd June. We have enjoyed the support of York School of Jewellery since we began in June 2010 and during this time they have raised an astonishing £823.58 for the charity.
Mar 2013- Once again we have received a generous donation from York School of Jewellery. Many thanks to the staff and students at the taster session for donating £82.50. As always we really value your support
Total raised for 2012 £179.57
Total raised from Autumn 2010 to December 2011 £481.51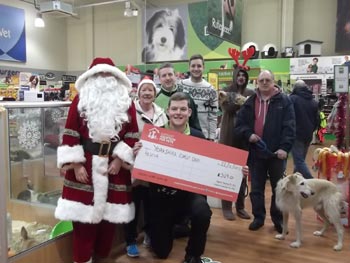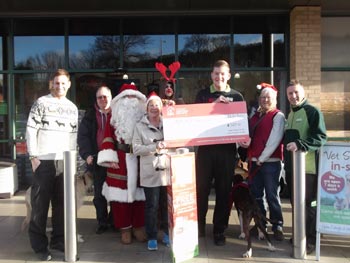 PETS AT HOME - SUPPORTING Y.C.D.R
Our fantastic branch of Pets at Home in Scarborough pulled out all the stops to raise just under £3,200 for Y.C.D.R. We can't sing their praises enough, with Luke having recently performed a sponsored Bungee Jump for us and all the staff working so hard in the store to raise such a fantastic amount for the charity.
Many thanks to all the staff for once again showing what a dedicated fundraising team you are and to all their customers for supporting us once again.
Picture outdoors left to right: Assistant Manager Martin, supporter Kevin and rescue dog Carlo, Santa Lesley, Reindeer John, Sheila and Luke with Cheque, Sue with rescue dog Jacko and Pets at Home Manager Mick O'Neil.
Cammish's Outdoor Clothing and Equipment of Filey Hit the Jackpot!!!!!!!!!!
We can't believe it our wonderful supporters Jo and Ian Cammish have raised the grand total of £2,000 for our charity! This is absolutely fantastic and we would be lost without their support. Jo and Ian have an area in their shop devoted to items for sale on behalf of YCDR. They also help spread the word about the charity and put up posters of our dogs. They have been known to help rehome our dogs too. Alan, Barbara, Tom and Graham came to thank Jo (seen on the left) on behalf of Y.C.D.R
Quietly Helping
We would like to thank Judith Fielding who does our fabulous professional Certifcates for our fun dog shows and also our Sponsor a Dog Certificates too.
Pets at Home Charity Auction
We are delighted to announce the final total raised by Pets at Home, Scarborough Branch at their charity auction on 21st April on behalf of Yorkshire Coast Dog Rescue:
******************£980*******************
Many thanks for your support, all the money raised will go directly towards taking in and caring for abandoned and unwanted dogs until new homes can be found.
Pets at Home Charity Tombola
Once again Pets at Home, Scarborough have held a tombola in support of Y.C.D.R and have raised the sum of £520.
We really appreciate the support of the Manager and all the staff who all go the extra mile for our charity.
Thanks to your support we can really make a difference.
Our No.1 Fundraiser
Hats off to Kasie our number one junior fundraiser. She raised the amazing total of £65 for the Scarborough Walk For Life sponsored dog walk. Kasie and her mum adopted our lovely Lucy and she is seen here with another YCDR dog, Shadow who was adopted by her Nana, Linda, who is another loyal supporter of the charity.
Well done Kasie we think you are a star!
George Edward Smart Homes Raise £340
We would like to extend our thanks to all the staff, residents, family and friends at the George Edward Smart Homes for raising £340. Deputy Head of the Home, Karen Holroyd presents the cheque to our Treasurer, Sheila and the charity's sponsor Yorkies who came to say thank you on behalf of all the rescue dogs.
Cammish's are Doing a GRAND Job of Fundraising!
Cammish's Outdoor Clothing and Equipment of Filey is run by Jo and Ian Cammish who are loyal supporter of our charity. Not only do they regularly raise money by having a collection tin in their shop, they have designated a corner of the shop to sell items on behalf of the charity.
Since opening their charity corner they have raised an outstanding total of £1,505 to date. Many thanks to Jo and Ian, their support is much appreciated!
If you are in Filey and have some bric a brac to donate why not pop into Cammish's and see if they are able to sell it on behalf of the charity?
CANIX- OUR SPORTING FAMILY!
When our little Lab Asha came to the charity little did we know that she would become part of a very successful canix sporting family. She was full of energy and wore Sue out when she fostered her so it was a relief to find her a home where all that pent up energy could be channelled into this enjoyable sport. Asha has a wonderful relationship with young Stephanie who races with her and this partnership has achieved silver medal status at the European Championships- WE ARE SO PROUD OF THEM!
We must also give a mention to big brother Sam who runs with the gorgeous rescue dog Beth from (RDR), and Tristan who runs with cheeky chappie Red who is again a rescue dog. WELL DONE TO STEPHANIE, ASHA, SAM, BETH, TRISTAN AND RED.
Charity Race Night
A Charity Race Night was held recently at the Ship Inn on Falsgrave Road, in memory of the late Tommy McMillan, a long time regular at this popular hostelry. Ade Tong and his lovely partner Paula were 'bookies' for the evening and did a marvellous job helping to raise £560.40 which was split equally between Yorkshire Coast Dog Rescue and Jim Ward Wildlife Rescue; two of Tommy's favourite charities.
Many thanks to Vicky Bell, Landlady Michelle Croft and husband Mark from all the rescue dogs and volunteers at Y.C.D.R.
Treat Therapy For Our Dogs
It is tough being a rescue dog at Christmas when you haven't got a loving home of your own.
For the second year running the Orthopaedic Therapy Team at Scarborough Hospital are making sure our rescue dogs have a happy Christmas by donating a huge box of Christmas treats for them. The dogs will love them!
Triathlon Success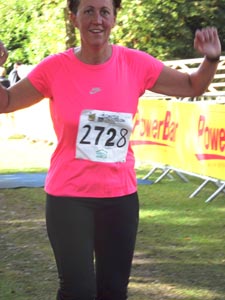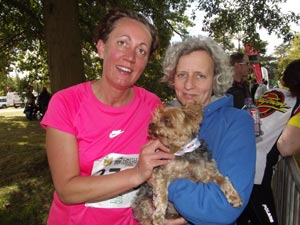 Both Liz and Skip had never done a triathlon before but we are ever so glad that they have now. These lovely ladies decided to compete at the Adult Relay Sprint at Hever Castle in Kent on Saturday 29th September and chose to raise money for our charity.
Ably assisted by their Support Crew member, Dolly, they successfully completed the event and have raised £300 for the charity (a final figure to be confirmed shortly).
Well done to these lovely ladies and a huge thank you for choosing to support our charity, oops and a huge thank you to Dolly too for cheering them on!
Show your Support and wear a Badge!
Badges are available for a minimum donation of £1 at all our events.
Kindly donated by rescue dogs Lilly and Toby.
Brownies are our Dogs' Best Friend.
We were delighted when Helen Williams, the Brownie Guider got in touch to say Forge Valley Brownie Group, based in Ayton, are working towards their Friends to Animals Badge and have chosen us as their animal charity. Their task is to find out more about the charity and to donate treats for our dogs.. The Brownies were visiting Pets at Home, Scarborough to listen to a talk by Pets at Home staff about small animals, and to get some hands on experience. This was the perfect opportunity to meet the Brownie Group and accept their gifts on behalf of our rescue dogs. Our little Yorkshire Terriers came to meet everyone and enjoyed all the fuss and attention.
More photos on our Facebook Page.
GOING, GOING, GONE!!
| | |
| --- | --- |
| | The gavel came down on a grand total of £2,012 but our Pickering and Malton Branch are hoping the final figure will be nearer £3,000. |
After months of preparation, last minute nerves and lots of excitement the Auction night finally arrived. Would people turn up, would they bid, would we raise a lot of money for the dogs? We needn't have worried as everything went according to plan and it turned out to be a huge success and a very entertaining night.
Our main organiser Kate, together with the Pickering and Malton Branch exceeded all expectations raising much needed funds for the charity. We appreciate all their efforts and were constantly astounded at the number of businesses/people who contributed to the event.
We would like to extend a special thanks to our auctioneer, Peter Illingworth, for being so entertaining and involving the children, making it a family event. Many thanks also to Father Antony for opening the event.
We are very grateful to the following and appreciate their support:
DEANS GARDEN CENTRE
CILANTRO RESTAUANT PICKERING
MARTIN BALDRY
COOK MUSEUM WHITBY
CHRISTINE THEAKER
NORTH BAY RAILWAY SCARBOROUGH
PEAK STEAM RAIL MATLOCK
EILEEN HUNTER
CASTLE HOWARD
SJT SCARBOROUGH
SHEILA LAWSON
SELINA SCOTT SOCKS
ALAN AYCKBOURN
BURTON AGNES HALL EAST YORKS
KIRKBYMOORSIDE GOLF CLUB
ROBERT FULLER
YORKSHIRE AIR MUSEUM ELVINGTON
RYEDALE FOLK MUSEUM HUTTON-LE-HOLE
THACKRAY MEDICAL MUSEUM LEEDS
CAROLE ELLIS
BRONTE MUSEUM HAWORTH
REDWOOD PARK HUBY NR YORK
JACKIE ANDERSON
DUNSLOW VETS SCARBOROUGH
FALCONRY CENTRE THIRSK
RIPON RACES
RUSSELL GRANT
BUILD A BEAR WORKSHOP
CAPPLEMANS PICKERING
HEIGHTS OF ABRAHAM MATLOCK BATH
PPI KARTING LEEDS
EASTGATE VETS PICKERING
WOLD TOP BREWERY WOLD NEWTON
FOREST & VALE HOTEL PICKERING
PETER ANDERSON
ANITA BRIGGS
OLD MANSE PICKERING
SHEILA LAWSON
ARTHUR STRICKSON
RAF HOLMPTON WITHERNSEA
FLAMINGOLAND
SCARBOROUGH CRICKET CLUB
THORNTON HALL PARK NR SKIPTON
BLACKPOOL PLEASURE BEACH
BRONTE MUSEUM HAWORTH
THEAKSTONS BREWERY
MAGNA ROTHERHAM
WATERPARK BLACKPOOL
JAMES HERRIOTT MUSEUM THIRSK
QUADTEX
ALEX YOXALL
HOLMFIRTH VINEYARD
TOBY CARVERY YORK
LAWRIE ADAM
WINDERMERE CRUISES
KIRKBYMOORSIDE GOLF CLUB
ANITA BRIGGS
THORNTON HALL PARK NR SKIPTON
EASTGATE VETS PICKERING
PEAK STEAM RAIL MATLOCK
REDWOOD PARK HUBY NR YORK
BAMBURGH CASTLE NORTHUMBERLAND
CAROUSEL SCARBOROUGH
MARION BROWN
CAMMISH CLOTHING FILEY
COAST LADIESWEAR FILEY
FOXHILL KENNELS ALLERSTON
DEREK THRIPPLETON
SHEPHERDS PURSE THIRSK
JOHN MacKENZIE
NOYON RESTAURANT PICKERING
CROFT TEESSIDE
JILL BATEMAN
STEAM & MOORLAND RAILWAY
EDGEMOOR VETS
BAR 4
McCAINS
REEDS NEWSAGENTS
FORESTRY COMMISSION
EDEN CAMP
WOLDS WAY LAVENDER
ANNE WHEWAY
MARIBEL BAXANDALL
LINDA McKENZIE
THE REALLY USEFUL GROUP FOR A CHEQUE FOR £500
BARCLAYS BANK MATCH £1 FOR £1 UP TO £750
Pets at Home Clifton Moor Branch, York.
Over the past six months our Pickering and Malton Branch have been frequently invited to fundraise in the Clifton Moor Branch of Pets at Home. Our branch are now delighted to announce that our charity has been chosen to be one of their Support Adoption Charities and the branch will actively help and support fundraising events in their store.
Pets at Home actively support local charities, holding fundraising events and Support Adoption events, encouraging people to consider adopting a pet. Having the recognition and support of Clifton Moor Branch is brilliant news for our charity and will help us to rehome more dogs in the York area.
Steph helps volunteers Kate and Jen
Store Manager Paul with volunteer John.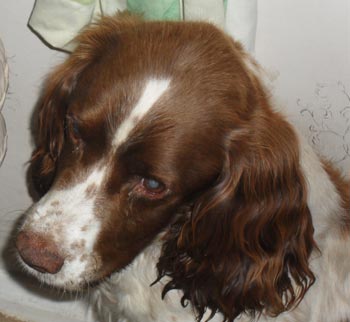 When The Going Gets Tough You Can Rely On Ben
Much to their disappointment, our Pickering and Malton Branch had to cancel their sponsored dog walk because of bad weather. Young Ben had been looking forward to his walk and wasn't going to let the weather stop him. Together with Martin, his owner, he set off and completed the walk, raising an astounding £70 for the charity.
Well done Ben and a huge thank you to Martin for taking on this challenge despite the weather forecast.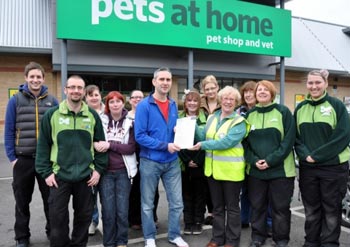 Pets at Home are our Santa Paws
Store manager Mike Southwick is pictured presenting the cheque for £904.19p to Sheila Lawson of Yorkshire Coast Dog Rescue
We know we are lucky to have the help and support of Pets at Home, Scarborough Branch, who hold events for us throughout the year, helping us enourmously.
Santa Paws well and truly visited us this Christmas when staff at Pets at Home pulled out a real Christmas Cracker by holding a mega Tombola thoughout December. It was a team event with the staff donating prizes, running the stall with help from the charity (when volunteers were not at work) and customers kindly rounding up their sales to the nearest £1 at the tills to help raise funds.
As usual the staff joined in wholeheartedly to make this the best Christmas present ever for the charity and we received a grand total of £904.19.
We would like to thank all the staff at the store for putting in so much effort to help our charity, we appreciate the extra work this invloved at their busiest time of the year and a HUGE thank you to all their generous customers for their support.
Asha and Stephanie 2nd in CaniX Competition
When we took on our young Lab, Asha we were looking for a home where she would get plenty of excercise and stimulation as she was a bundle of engery. We are pleased to see that she is coming on a treat and has started CaniX where she has come 2nd in competition at two events so far. She runs with Stephanie and they make a great team, WELL DONE to both of you, we are very proud!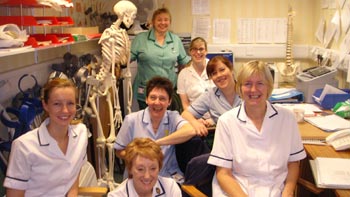 Christmas Treats
Our rescue dogs had their favourite therapy this Christmas when they received a box of dog treats and toys, kindly donated by Orthopedic Physiotherapists and Occupational Therapists from Scarborough Hospital.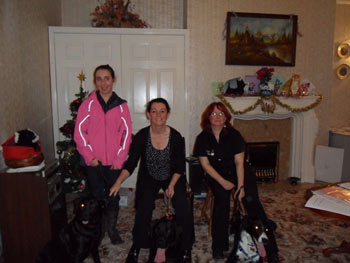 Elsinor Residential Home
We were absolutely delighted when Sharon and Louise, Manager and Deputy Manager of Elsinor Residential Home, Scarborough contacted us to say we were their chosen charity for the annual Christmas Raffle.
We received a cheque for the grand total of £300 which is fantastic and will make such a difference to the rescue. All the proceeds will be used to help abandoned and unwanted dogs from our area, helping them to find loving homes.
Both Sharon and Louise have adopted rescue dogs and Heidi, Hooley and Jay are enjoying life as can be seen in the photo. Saffron on the left, with mum Louise on the right, have adopted Border Collie Jay who came to us as a an abandoned puppy last winter. Sharon, second from the left adopted rescue dog Hooley and came back to us for a second dog when they sadly lost their existing dog and offered a loving home to Heidi.
We would like to extend our thanks to everyone who participated in the raffle.
York School of Jewellery
A new discussion, video and photo arena examining the raw bones of International, National and Local events titled 'Canine comment'- It's not to be sniffed at! Take a look at their Facebook for a dog's perspective of current affaires!


PICKERING & MALTON BRANCH
Pickering and Malton Branch
We are delighted to announce the formation of the Pickering and Malton Branch, which thanks to the hard work and dedication of our new volunteers, will help raise much needed funds and awareness of our charity in the area. This team will be administered by Kate Collier and John Mackenzie and Jen Baxandall.
Since our formation in June 2010 we have been involved in the Pickering and Malton area, taking in unwanted and abandoned dogs from the Ryedale Dog Warden and from families who can no longer look after their pets for various reasons.
We also rehome our dogs in this area and welcome John Mackenzie of Alpha Assist, who will be working with us, offering advice to new owners with any settling in problems their new pet may have.
Trafalgar Stores, Scarborough- Fundraisers Extraordinaire!
Mandy and Steve of Trafalgar Stores, Trafalgar Road, together with their local community, are proof that community spirit is thriving in the area. Dog lovers Mandy and Steve have held raffles and collections for our charity over the past year raising hundreds of pounds.
Many thanks to you and your customers, we appreciate all your help and support!
(Here they are outside their store with their Jack Russell Shirley).