Fletcher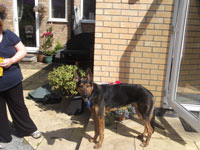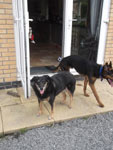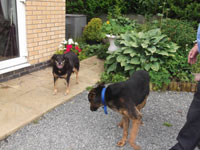 Yet another Happy Ending!! We had Fletcher for a long time and were beginning to wonder why nobody was interested in him, but here he is in his new home with his big sister Freya. At 14 years of age she will certainly teach him the ropes. Fletcher is now called Murphy and he has blossomed from the frightened, withdrawn dog that came to us as a stray, into a happy dog who just loves life. His family say his cheeky personality is beginning to show through and he now has a twinkle in his eyes.
Jim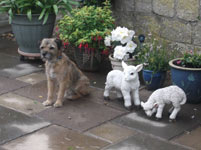 Now this is what we call a Happy Ending!! After living most of his life in a kennel as a stud dog, 12 year old Jim is now having a wonderful life with his new owner, who says he is going nowhere! He is coming out of his shell and enjoying daily trips to the beach, something he has never seen before. This is to say nothing of the luxury of your own settee to curl up on. We wish you a long and happy life Jim.
Shyla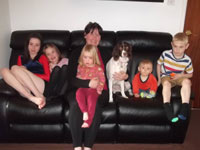 We were wishing for this kind of family to come along and adopt our Lottie and our wishes came true. Five adorable children, tons of love, and an active, outdoor life style is just what Lottie needs. She's had her first visit to the beach and has been swimming in the river in Dalby forest. Lottie still needs medical treatment which we are funding but she is improving daily with loads of TLC.
Sophie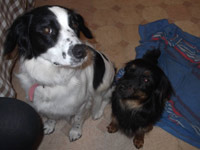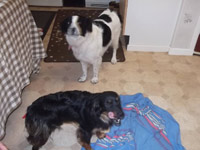 What a happy ending for our little Sophie! She has found a fantastic home with Jess who was also one of our rescue dogs. The two of them play together all day, and love their walks to the beach at Cayton Bay. Thank you Jan and the boys for giving them both the chance to enjoy life again.
Shyla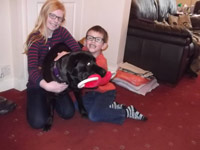 What a difference a week makes. Our Shyla is enjoying walks on the beach and in the forest, and has turned into a happy, confident girl who is loved by all the family. She is pictured here with her new best friends Maddison and Harry. A very happy ending for Shyla!
Milo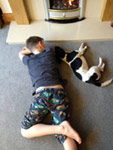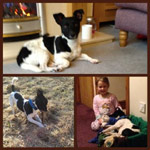 We think these photos of little Milo say it all. He has settled in with his lovely new family and, as you can see, the children adore him. He is never left on his own as he is able to go to work in the county side with his new dad when mum is not at home. What a lucky dog!
Sooty and Coco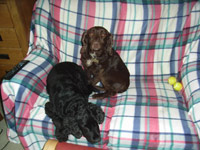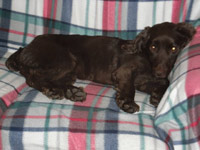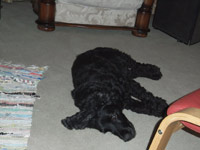 We tried for several months to find someone who would take both of these adorable dogs, and were beginning to think we would have to split them, until a lovely couple came along. Here is what they have to say about Sooty and Coco - " We feel totally blessed with these two. They are such fun but totally reliable in all situations such as our grand daughter, other dogs and visitors".
Heidi and Holly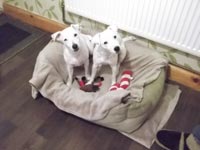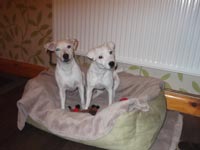 After such a heartbreaking time for these two gorgeous girls we are delighted to post photos of them looking so happy and settled in their new home. Many thanks to their foster family for taking such wonderful care of them and to a family member for offering them a wonderful loving home.
Lulu (Tri)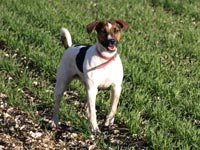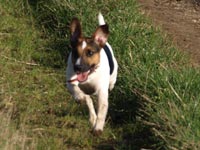 This littler terrier is full of fun and mischief. She loves nothing more than chasing her smaller JR brother and tippling him over when she has caught him. They play together for hours then she curls up on a knee for the evening happy and content.
Molly (Ginny)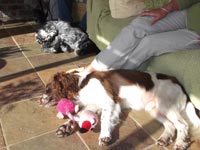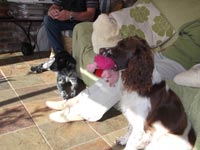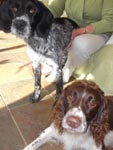 Molly (black/grey) has landed on all four paws in her new family. Their exisiting rescue dog Freddie wasn't sure at first but he has accepted her and they are best friends now and play together all the time. They live 2 minutes away from long country walks and love running through the fields together. Molly is great with the grandchildren when they come to visit.
Chip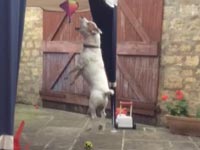 What an adventure this little boy is now enjoying with lots of walks, visiting members of his new family and generally having a wonderful time. This is what his new owner has to say " Chip is a delight. He's eating me out of house and home and sits under a tree if it rains so will need to get him a Mac but it's just like he's always been here.
Sam (Chuck)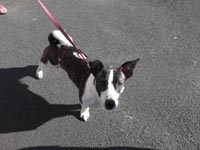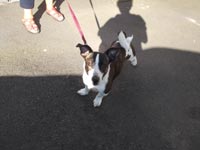 Sam is such a happy little dog who just loves his walks and playing with his toys. He is a real character and has found a home where he will continue to thrive and receive the love and attention he deserves.
Ruby (Cookie)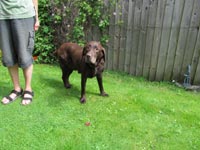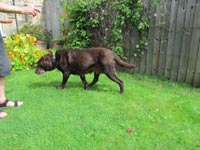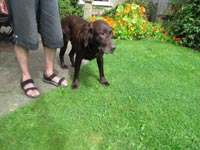 What a difference a week makes in a loving home. Ruby has lost weight, gained muscle tone, is improving in confidence and has found love. She is happy and settled and is looking forward to lots of TLC
Kye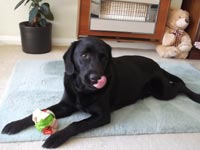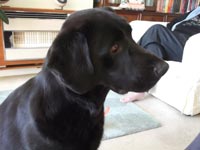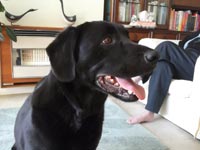 A perfect match! Supposedly nervous of men when Kye met his new owner it was instant bonding as if he knew this was his forever home from the minute he arrived. His new owners are thrilled and couldn't wait for the end of the week's trial to adopt him as they knew they would never part with him.
Sam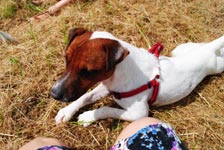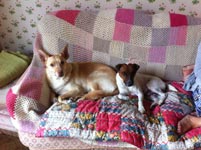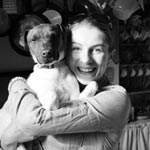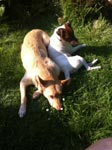 As you can see from the photos, Sam is settling in really well. He has on going problems with allergies so he is on various tablets but hopefully we'll get this sorted! He is a lovely dog, very gentle and getting used to all the cuddles, loves his toys and his confidence and trust around people is growing everyday. We love him and so does Tess!
Tilly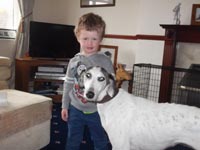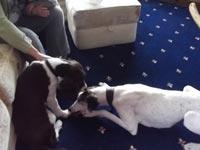 Tilly loves playing with Flopsy when she comes to stay and she adores their grandson. Her new mum said they were sure the right dog would come to them after they lost their old dog in December and they knew Tilly was the right one as soon as they saw her.
Shadow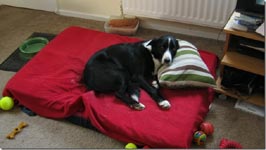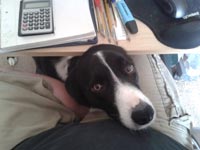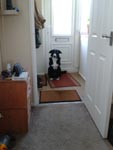 It's a hard life for a collie with a dad who works from home so undivided attention 24 hours a day, lots of open spaces for 4 walks a day and friendly neighbours who adore him already. Yes we think Shadow has well and truly landed on all four paws.
Scruff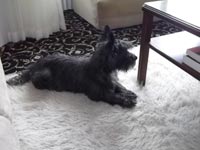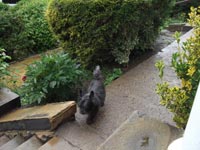 Is this really the little dog that came to the charity just a few weeks ago with a skin condition, matted coat an weepy eyes? His new owners knew within a couple of hours that they wanted to keep him. He is as good as gold and not a bit of bother and their old lab Tom gets on great with him.
Tilly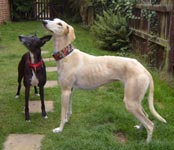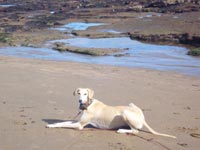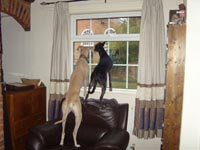 We love to receive updates about our adopted dogs and have just received this from Tilly's new owner. Remember Tilly the Saluki Lurcher we re-homed last year ? Well we thought it was about time that we gave you an update on how she's getting on living with us. She's really settled in now and she and Susie, our Whippet, are best buddies ……..Susie's the one in charge even though she's smaller !
We had Tilly neutered in December and all was well, she was up and bouncing about the very next day. Tilly's very interested in what's going on outside and when she's not looking out of one of the windows she's either asleep or more likely up to mischief. She likes to hide shoes, slippers and logs so that she can have a good chew on them – along with any books, remote controls, etc, etc. She loves playing with her toys and having them thrown so that she can retrieve them. We sometimes take Tilly and Susie to my Dad's house so that they can have a really good run in his field and get to stretch their legs and do a bit of rabbit hunting. Tilly still hasn't realised that there's no point in chasing the rooks and pigeons….they just fly away.
Tilly's learnt to ring a bell at the back door so that she can tell us when she wants to go out to the toilet but because we taught her to do this through the use of treats she also rings the bell when she's after more food !!
Tilly has certainly been a challenge but after 8 months of having her we wouldn't be without her
Troy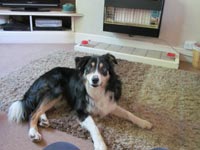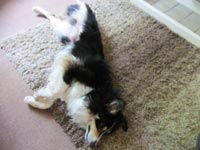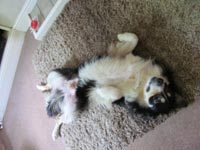 This gorgeous Collie has certainly got his feet under the table and loves his new home. He is still slightly nervous but in the space of two weeks you can really see him blossoming in the care of his new owners.
Winston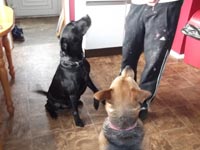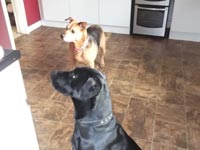 Our golden oldie Winston has settled into his new life with his new sister for company and even gets to sleep on the bed!!! Well done Winston you have found a wonderful home.
Tommy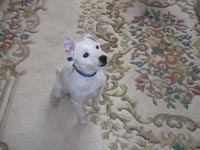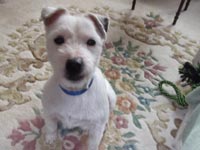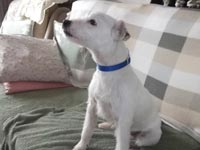 This little boy has been bathed and groomed and now looks stunning. His new mum absolutely adores him and is looking forward to many years of love and happiness together.
Ricky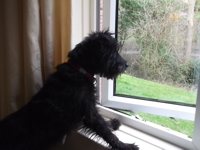 When poor Ricky's owner died unexpectedly he was returned to the rescue for rehoming. Fortunately a kind hearted retired gentleman was looking for a companion having had dogs all his life and Ricky was the perfect match.
Max (Murray)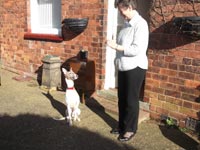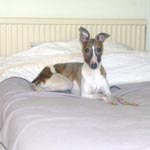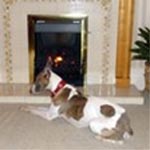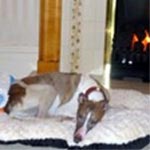 This little boy came to us on Christmas Day with a badly bitten nose, a split tail and was underweight. He loves his new home, enjoying lots of lovely walks, meeting new people and dogs and most of all having a family who loves him. He has put 1kg on in under a week and looks like a different dog.
Romer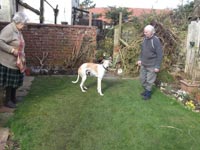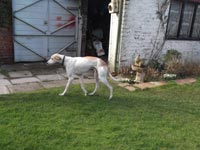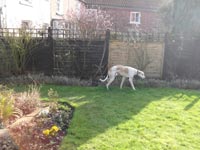 Our gorgeous Romer has been with us for over 8 months and is such an affectionate boy he really deserved to find a loving home. He really has found his ideal home, he gets three good walks a day and has a large garden to play in and a mum and dad who love him to bits.
Alice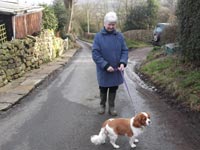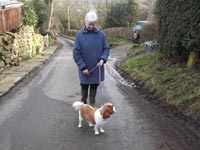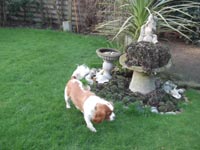 When little Alice met her new mum it was as if they had always been together, they absolutely adore each other and her mum wouldn't part with her for the world.
Lottie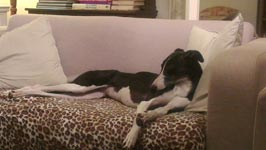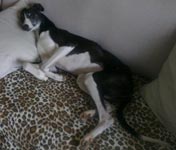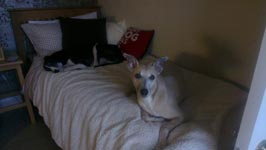 It may have taken Lottie over 3 months to find her forever home but looking at her you can see it was worth the wait. With brother Alfie for company and a loving family what more could our girl wish for!
Ollie and Coco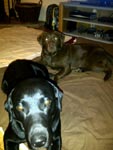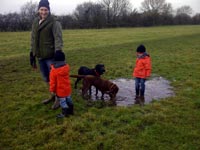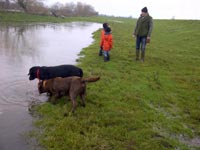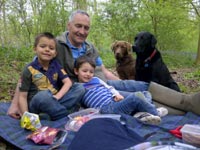 Two Labs and two boys what more could you want for guaranteed fun and adventures.
Mani (Manning)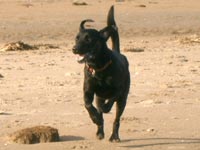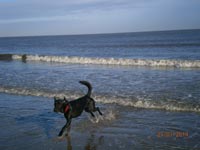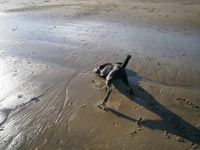 Now this is how to have fun! We are so pleased to see Manning enjoying life to the full. He is such a lovely boy who came to us underweight and looking for love. The way he bounced into the car when his mum and dad picked him up showed just how ready he was to be their boy! Love the last photo!
Jacko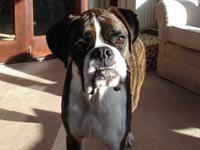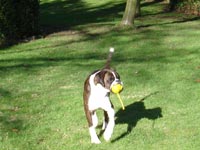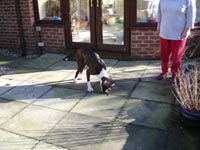 After a terrible start in life we are so pleased to see this lovely boy happy in his new home. He settled in straightaway enjoying his new life with his family who absolutely adore him.
Ben and Star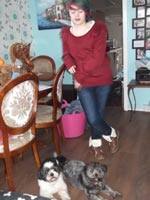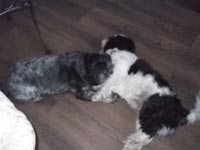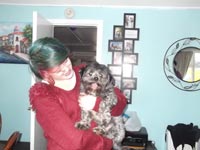 It was wonderful to see Ben and little Star happy and settled in their new home. Grand-daughter Chloe absolutely adores them and is studying Animal Care so is looking forward to caring for her new pets.