Tifa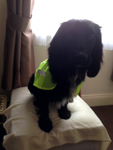 Tifa was a much loved pet and it was heartbreaking to see him lose his loving home. It was therefore brilliant to see him happy and settled with his new owners who absolutely adore him. He is enjoying lots of long walks, meeting new playmates and receiving lots of TLC.
Skye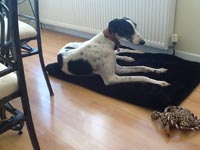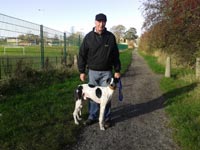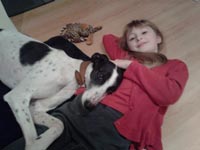 Poor Skye spent 7 months in the kennels waiting for his forever home but it was worth the wait as you can see. This is what his dad had to say.
"Skye has settled brilliantly and is now part of the family. We each still have a lot to learn from each other. Sky needs some social skills when meeting other active dogs, but that will come in time , as will the ability to play with toys and recognise his own name.Generally he, and we , have adjusted well and am pleased to report he has started to put on weight, and I have started to lose weight !"
Suki (Georga)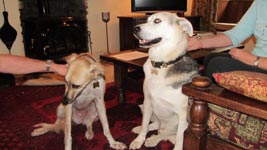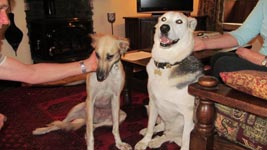 When Suki met Maxie it was a match made in heaven! As soon as Suki went into the lounge and sat on Maxie's big comfy bed and gave me that look "I am home" I knew this would be a Happy Ending. Two weeks later, bathed, brushed and gleaming our lovely girl is settled and adores her mum and dad and her new big brother who she loves to chase round the garden and pinch toys from.
Dennis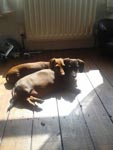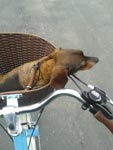 We are thrilled to see Dennis enjoying life in his new home. When he came to us he was very overweight and we were concerned about his health and wellbeing. Here are his owners comments:
Hi, I just thought I'd let you kow how Dennis my Dachsund is getting on. I adopted him last summer when he weighed a whooping 7.3kg and he has now reached his target weight of 5kg !!! He has lost about 30% of his bodyweight. He is a joy to own and we are so pleased with him. Photos: Dennis enjoying a bike ride and a cuddle with his new brother Louie. He still looks a bit podgy when laid down, still needs a bit of toning up
Rosie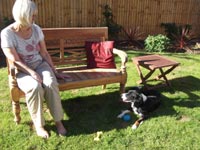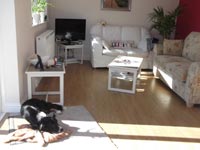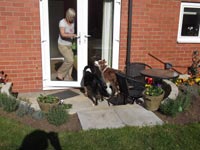 What a wonderful time Rosie is having with her big sister Maisie and her new mum and dad absolutely adore her. She is such a gorgeous girl we are delighted she has settled so well in her new home.
Timmy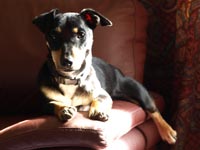 This cheeky little chappie came to us at the right time as shortly afterwards we lost our lovely Jack Russell, Henry at the age of 16 years. His funny antics have helped fill the huge gap in our lives and he gets on great with our other dogs.
Lola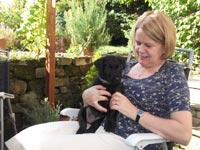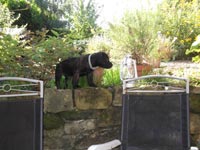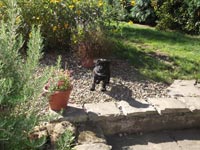 Lola is totally adorable and so full of mischief! She loves exploring through the undergrowth in the garden and was wondering if she was big enough to jump off the wall !
Poppy (Bam Bam)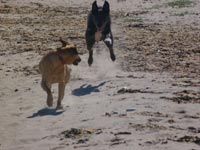 LOL we love this action shot of Bam Bam playing chase with her new sister Bella on their first holiday together. Run Bam Bam she is catching you up!
Pippin (Ellie)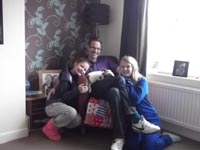 Although she is very much a Daddy's girl all the family adore her. Here she is with Mimi and Tabatha - they have been wanting a dog for ages and she is everything they wished for.
Jack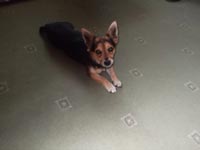 It is lovely to see this cute little boy happy and settled in his new home. He has fitted in perfectly and is enjoying all the love and attention.
Rodney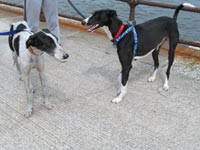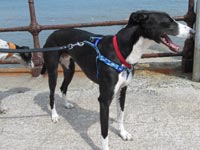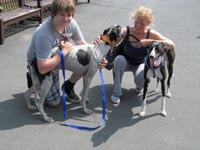 This was the perfect match! Our lovely Anna fostered Rodney as he was getting stressed and losing weight in the kennels. They looked so well together and we were absolutely thrilled when Anna fell in love with him and offered him a forever home.
Rio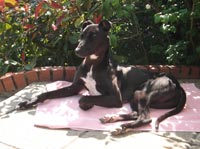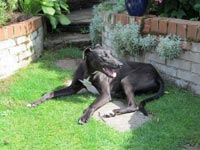 Well this is the life! Sunbathing on the lawn, drinks on the terrace, gourmet food, long walks in the countryside and a cosy bed of my own! I have really landed on my feet here. It's not such a dog's life after all!
Peppa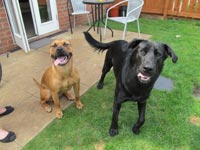 When our little 22 week old black Lab cross puppy Jacob found his forever home at the end of October 2012 we knew he would have a wonderful life. He is now twice the size and twice as handsome and our lovely Peppa has joined the family and is his new big/little sister. They are great friends and race round the garden together with their tuggy rope having a great time.
Tara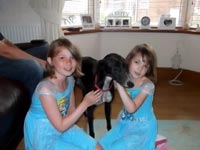 Our Tara has been adopted!!! Here she is with Libby and Maddy aged 8 and 6. (15 year old Jo was out.) She is now called Lola and has settled into a lovely, busy family where she is getting loads of walks and attention. She gets on well with both sets of grandparents and their dogs and goes off to the beach and the woods with them when her new owners are working.
She has just been camping for the weekend with all the family at Staxtonbury Music Festival, and was as good as gold. What a lucky dog she is!
Tom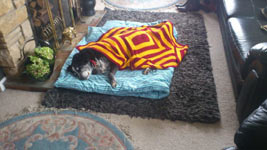 Our golden oldie, Tom is happy and settled in his new home, safe in the knowledge he will be loved and cared for throughout his old age. The charity will continue to meet any veterinary fees and you can help by sponsoring him, please see our Sponsor A Dog page for details.
Chester (Troy)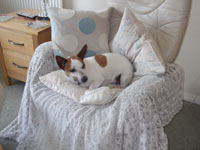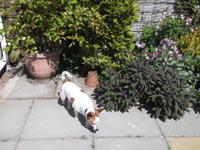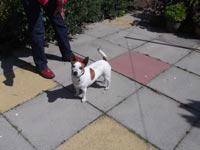 Our lovely little Jack Russell made himself at home the moment he stepped into the house. He ran round exploring everywhere then found him self a squeaky toy, brought it over and dropped in on the floor as if to say "I am home play with me!"
Hunny (Topsy)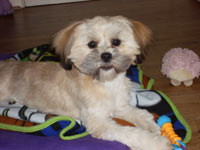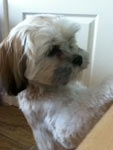 Our gorgeous little girl has found a wonderful home and is settling in well. Here are some comments from her new family. "We have been out a lot enjoying the sunshine. She definitely sees the garden as her domain now and 'patrols' it confidently like the little Tibetan Sentinel that she is - seeing off any blackbirds that dare to land in it.
You can just see her favourite pink hedgehog toy in the first photo - she takes it to bed every night and plays fetch with it during the day, and then lies down for a tummy rub with its nose in her mouth.
She is enjoying playing with her new Lhasa pal Murphy and is signed up for some fun dog classes starting in June, which will hopefully be beneficial to us both and help her to be more relaxed around other dogs as she can get a bit 'giddy' :)
Thank you again for allowing us to adopt her - she is very much a part of the family now, and we feel lucky to have her.
Jack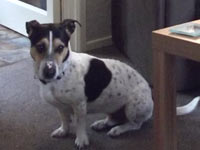 Jack I just wanted to tell you all how happy I think I am going to be here. I have a new bed and new lead and collar (I look a cool dude)I walked down to the beach yesterday there were lots of people and other dogs, some I said hello to some I couldn't be bothered. we go out for three long walks a day and I have a garden all to myself, mum and dad sit out and read so I don't get lonely. I overheard mum and dad talking, they said I am the perfect dog for them and, they already love me. I smell quite nice, I get sprayed and brushed every day, I like that very much. well that is all for now Sue we are off out. love from Jack. good luck to all the other dogs, tell them to never give up hope. xxxxxx
Simon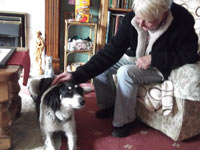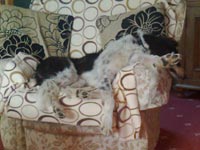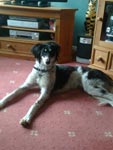 His new family are delighted with Simon and although they have only had him for 10 days, they have had so much fun and pleasure from him. They took him to Redcar beach and he had obviously never seen the sea before or the sand for that matter, as he couldn't understand why his feet were sinking or what the waves were! He soon realised what fun it was though and raced around for ages.
Bobby (Titch)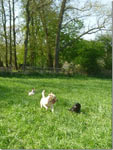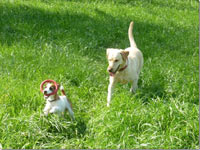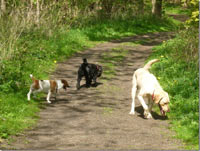 We knew our Golden Lab, Charlie had a wonderful home and were delighted when his owners asked to see little Titch. He is now settled in his new home and Charlie is teaching him the ropes.....or it is double trouble?
Max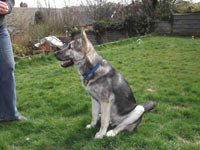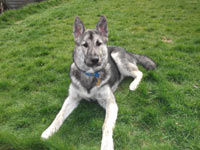 Max Enjoying His Garden
With a huge garden to play in Max is having a great time and loves life with his new family.
Ruby (Jill)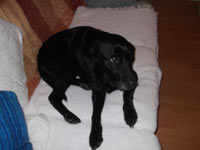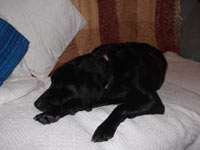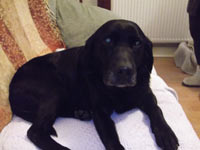 After spending 7 months in the kennels Ruby is now happy and settled in her new home and it is heaven! Her new owners are delighted with her and couldn't have wished for a better dog.
Poppy (Flower)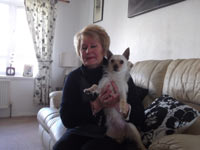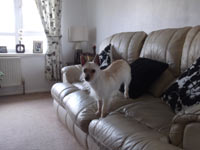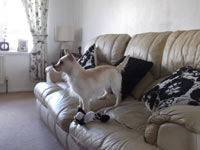 We think Poppy found the perfect match when she was adopted by her new owner. Poppy is a lovely little girl, she just needed the right home and her owner says she is great company for her and really playful and she absolutely adores her.
Max (Prince)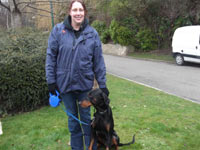 What a gorgeous boy our Doberman Max is. He has settlerd so well in his new home, is fantastic with the kids and has a lovely Chocolate Labrador sister, Ruby. Here he is with his mum supporting us on the Scarborough Walk For Life, well he certainly has found a wonderful new life with his new family.
Max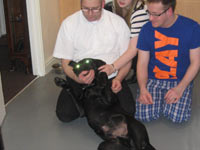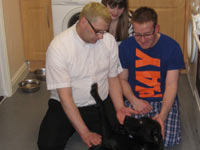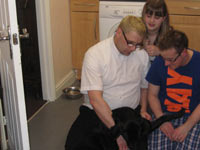 This lucky boy has now found a loving home and is settling in well. He still needs some basic training but John from Alpha Assist has been helping the family and he is making good progress.
Dennis (Romeo)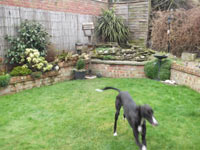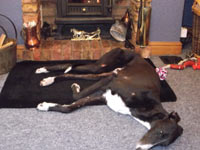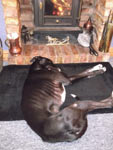 What an absolutely perfect home he has got! Within a few hours of walking into his new home it was as though he had lived there for ever. He hasn't put a foot wrong, and is no trouble at all. He has a lovely bed but prefers to lay in front of the log burning stove. His sores are healing up and he is slowly putting weight on. What a lovely ending for him he looks so content.