Lewis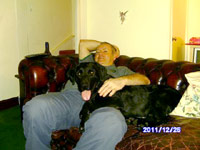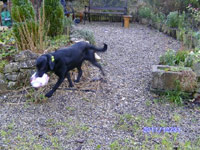 We have received the following update: "Lewis loves lounging (on the sofa) sitting on knees and playing. From such a shy boy he is now a confident bouncy dog who keeps us entertained with his antics. We wouldn't be without him!"
Pedro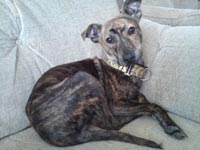 Our Lurcher puppy Pedro is loving life with his new family and is growing into a handsome little boy. He loves his fluffy little sister Dora and enjoys chasing round the woods with her, even rounding her up when she falls behind.
Max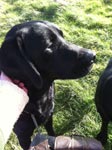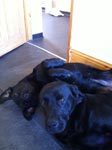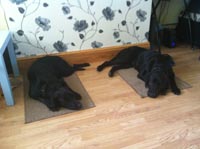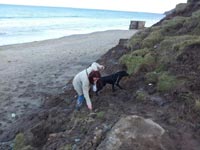 Our lovely Lab Max hadn't received much attention in his previous home so it is wonderful to see him enjoying life to the full. He has a lovely Lab sister, Kiah, to keep him company and they are now firm friends.
Jethro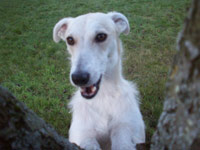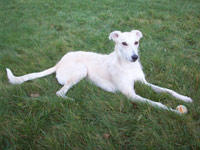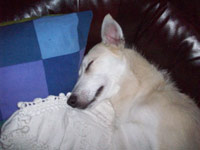 From rock pool bathing on the beach to charging round in the garden with his ball, Jethro is having a wonderful time with his new family and they just adore him.
Arran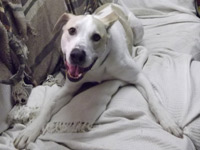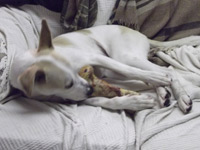 Well it may have taken 16 months to find Arran a loving home but I think the boy did good don't you?
Lucky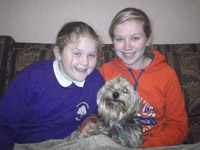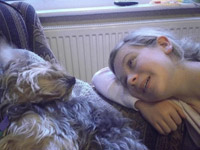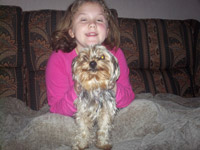 This little boy was dirty and scared when he came to us and just look at him now, no wonder we called him Lucky. He is a fun loving mischevious little boy who is now enjoying life to the full.
Henry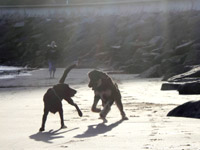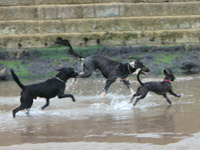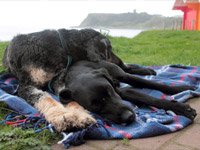 Our lovely Lab Henry was so nervous and timid when he came to us and now look at him, he is a different dog. He obviously enjoys life with his new family and brother Charlie.
Grace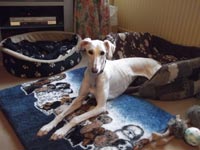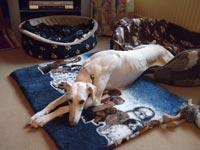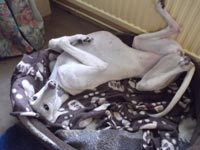 Do you think Grace looks happy, content and not a care in the world? What a lovely home for such a lovely dog, it is what she has always longed for.
Bill (prev Chester)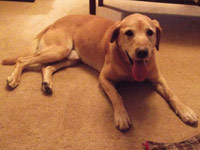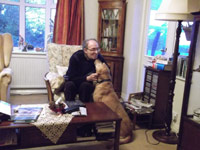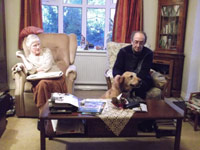 A match made in heaven? Well we think so as already Chester looks a different dog, he looks so happy, has gained some weight and obviously adores his new owners.
Ellie and Maddie (prev Freda)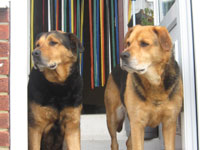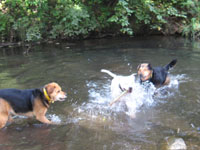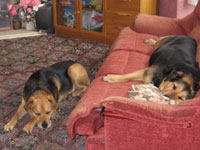 When we took on these two sisters we thought we would have to split them up as it is hard to rehome biggish dogs at the best of times. Well, when Hazel contacted us to say she had lost her dog and poor Oop, her deaf dog, was missing his playmate we asked if she would give Ellie and Freda a try.
We are happy to say the girls are now happy and settled in their new home and it truly is a happy ending with never a dull moment. Ellie and Maddie came to our last dog show but I am afraid it was their new brother Oop who stole the show!
We must also thank our fosterers for doing such a good job and helping us to know more about the girls so that we could find them their perfect home.
Ollie (nee Fonzie)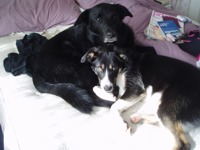 When rescue dog William's owners rang to say they were interested in adopting our little puppy Fonzie, we were delighted, as we knew he would have the perfect home. He took to his big brother William immediately and soon settled into his new life. He is very well behaved and is proving easy to train and his new family are having lots of fun with him.
Carlo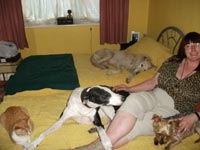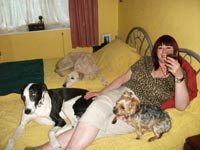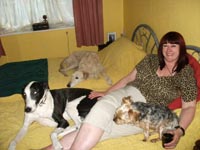 Carlo (Cream coloured Lurcher). Our lovely Lurcher Carlo has really got his feet under the table or should we say on the bed! He has settled so quickly into his new home, but we knew he would with Lesley and Kevin to spoil him and he is best friends with the family cat.